For immediate Attention 24hrs please call We are available with immediate attention 24hrs a day.
We take care of everything
In February 2019 we opened our new funeral home in Bundoran to help us provide an "Excellence in Funeral Service" to the people of the North West.
Irish Enterprise Awards 2023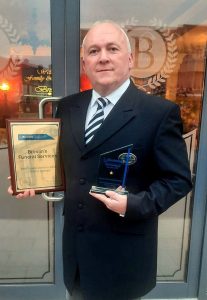 We are over whelmed and proud to receive The Irish Enterprise Awards 2023 Best Funeral Services for Co. Donegal. It shows our dedication and commitment to provide excellence in our services to all the families and loved ones we had the privilege to serve.
Most people only arrange one funeral in their lifetime. While it is an honour to have been entrusted with arranging the funeral of a loved one, the process may appear to be somewhat daunting.
To ensure you have all the information you need and are fully aware of the options available to you we have created a guide – your choice of funeral.  This can be printed or downloaded so that you and your family can read it in your own time.
We are available 24 hours a day, seven days a week, 365 days of the year. We do not use an answering service so your call will always be answered personally by one of our funeral directors, even if you call us in the middle of the night or at the weekend.
Very increasingly becoming the way forward and I can see this myself over the last few years the amount of people that are pre-planning their own funeral and paying for it at today's price. It's an easy and stress free way to have everything in place before you need it as it causes less confusion and stress on family members wondering did they do all you wanted.
A simple phone call to make an appointment with Donal ensures all of your arrangements and wishes will be seen to when needed and you will receive two copies of the arrangements to give to your next of kin or family member.